In 2023, the landscape of help desk ticketing systems is evolving rapidly to meet the demands of modern business. These systems play a pivotal role in providing exceptional customer support. From streamlined ticket management to advanced automation, the top 10 platforms are pushing boundaries. In this guide, we'll explore these cutting-edge solutions, showcasing their features and strengths. Join us as we unveil the technologies poised to redefine customer support in 2023.
1. Help Scout: Elevating Customer Support
Help Scout stands out as the ultimate tool for customer support. From shared inboxes to robust customer management tools, it provides an all-encompassing solution. Notably, the platform excels in its ease of use, allowing teams of all sizes to swiftly initiate customer support operations.
Key Features of Help Scout
Shared Inbox Collaboration: Facilitate seamless teamwork by ensuring everyone is in the loop regarding crucial conversations and customer issues.
Unified Customer Conversations: Manage customer interactions effortlessly, whether through email or real-time live chat.
Efficient Workflows and Automated Responses: Leverage AI tools for quicker response times and enhanced customer assistance.
Knowledge Base Creation: Establish a repository of quick how-tos and tutorials to guide customers in using your product effectively.
Performance Tracking: Access comprehensive reporting and analytics to monitor support team performance.
Pricing: Free trial available. Plans start at $20 per user per month.
READ MORE:
2. ProProfs: Versatile Support for Customer and IT Teams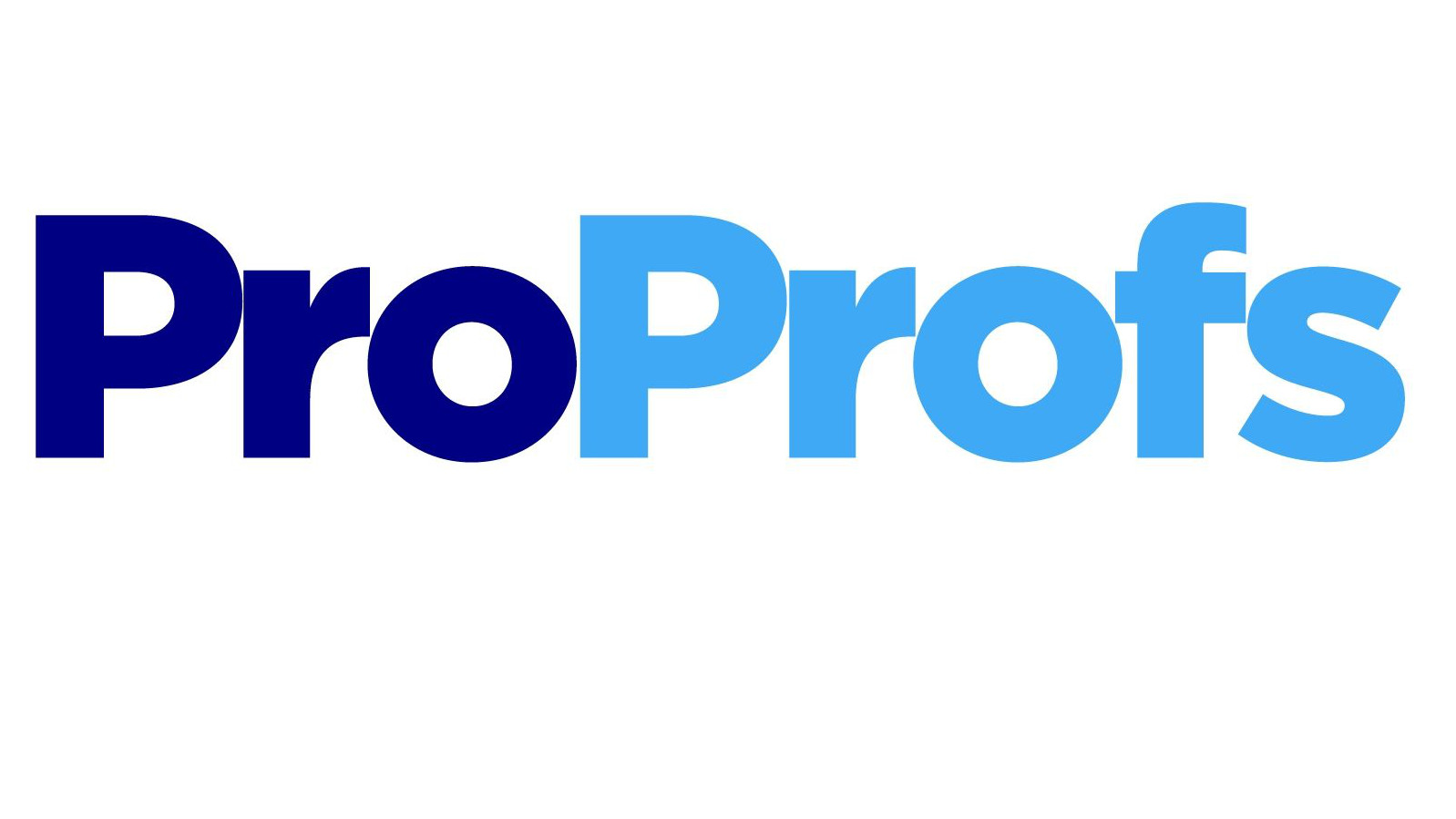 ProProfs' help desk caters to both customer support and IT teams, offering multichannel support via email, phone, live chat, and a dedicated help center. The platform excels in collaboration with features like internal notes and automation capabilities for a seamless workflow.
Key Features of ProProfs
Round-Robin Ticket Assignment: Equitably distribute support tickets among agents for balanced workloads.
Pre-Written Responses: Expedite response times with pre-prepared answers to common queries.
Insightful Help Desk Reports: Access essential customer support metrics to refine your support strategy.
Pricing: Free trial available. Plans start at $20 per user per month.
3. Zoho Desk: Streamlined Communication Across Channels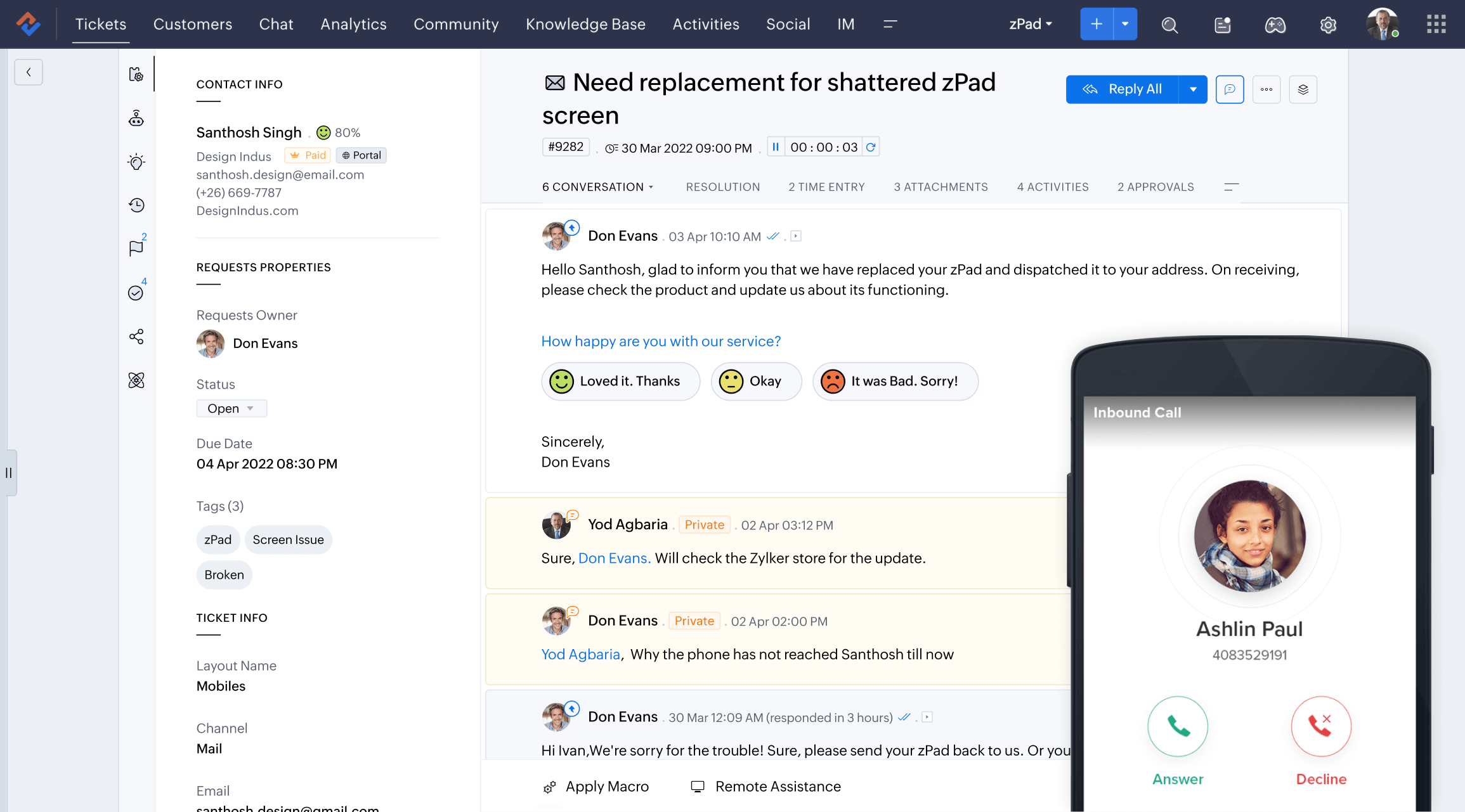 As part of the Zoho suite, Zoho Desk offers comprehensive ticket management capabilities, enabling seamless communication with customers across various channels.
Key Features of Zoho Desk
Unified Inbox for Multichannel Messages: Receive and respond to messages from multiple channels within a single inbox.
Integration Capabilities: Seamlessly connect with existing tools for an enhanced customer experience.
Self-Service Portal Creation: Provide tutorials and FAQs for users to independently navigate through.
Pricing: Free trial available. Plans start at $14 per month.
4. Zendesk: Omni-Channel Customer Support Management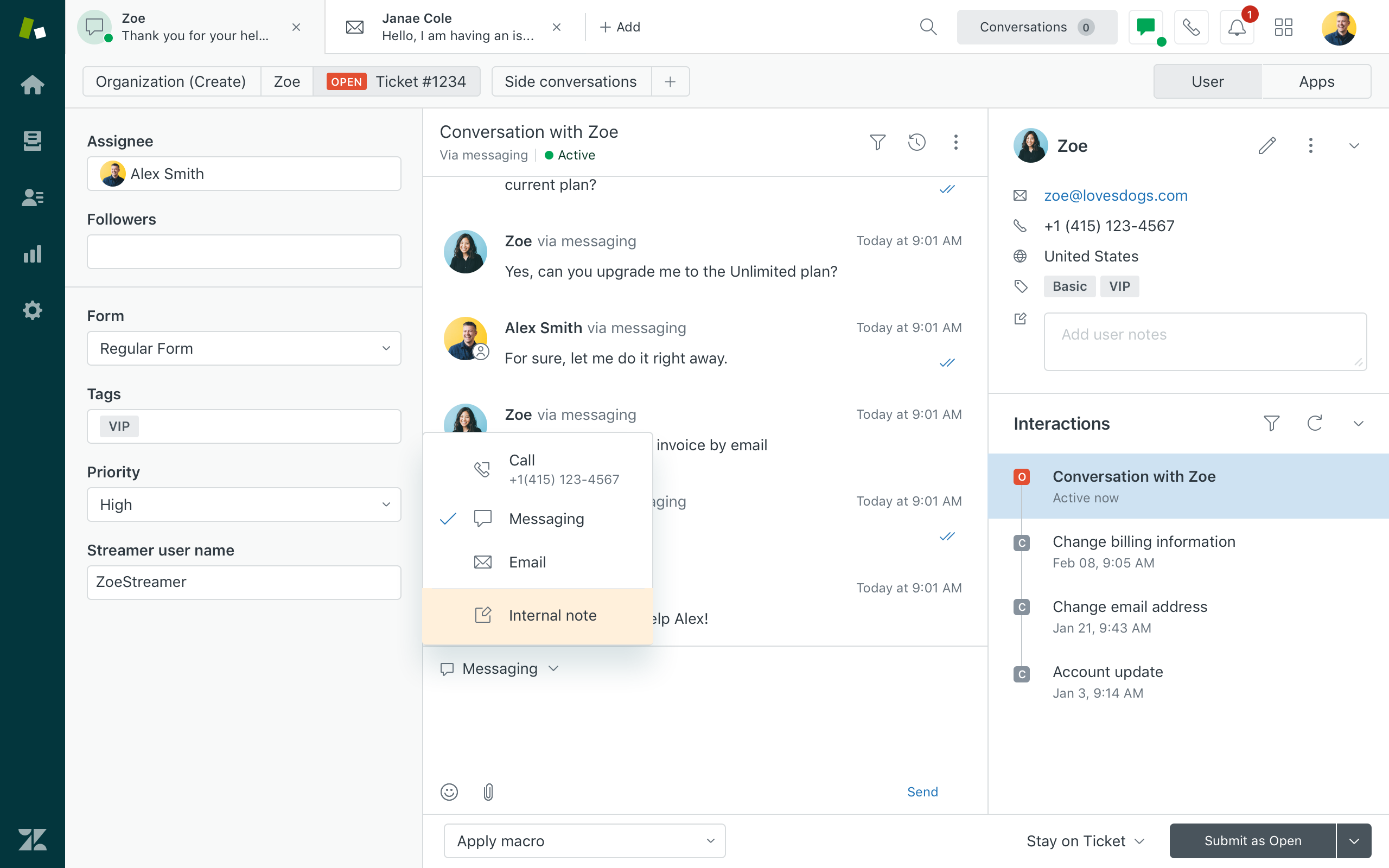 Zendesk empowers customer support teams to manage conversations across diverse platforms. Support agents can categorize, prioritize, and personalize interactions effectively.
Key Features of Zendesk
Cross-Channel Communication: Reach customers on their preferred platforms, including email, Facebook, Twitter, and live chat.
AI-Powered Chatbots: Personalize auto-responses using AI until an agent is available for assistance.
Knowledge Base Establishment: Cater to customers preferring a self-help approach.
Pricing: Free trial available. Plans start at $19 per agent per month.
5. HubSpot Service Hub: All-in-One Solution for Customer Service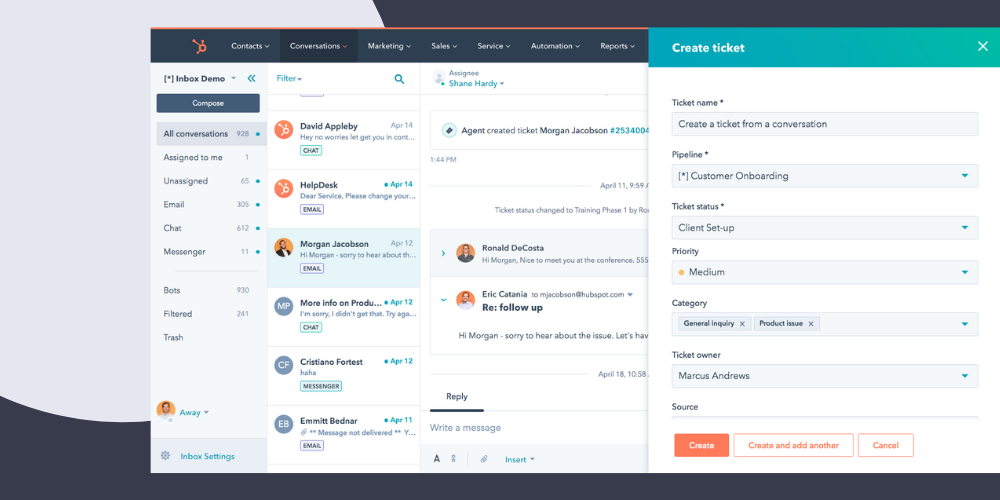 HubSpot offers a comprehensive suite of tools for sales, marketing, and customer service teams. It allows companies to tailor their toolkit according to their specific needs, making it a versatile all-in-one solution.
Key Features of HubSpot Service Hub
Video Messaging for Personalized Support: Create custom help videos for customers, adding a personal touch.
Unified Communication Hub: Integrate email, live chat, Facebook Messenger, and more for seamless communication.
Customer Satisfaction Surveys: Gauge support team performance through surveys for actionable insights.
Pricing: Free plan available. Paid plans start at $18 per month.
6. Freshdesk: Harnessing AI for Customer Support Automation
Freshdesk leverages AI to automate and streamline customer support operations. Its AI feature, "Freddy," recommends relevant knowledge base articles and facilitates efficient ticket resolution.
Key Features of Freshdesk
Collaborative Ticketing: Enable agents to work together seamlessly to fulfill service requests.
AI-Powered Ticket Assignment: Automatically assign tickets to the most suitable agent for the job.
Customizable Dashboards: Showcase performance metrics and analytics for team evaluation.
Pricing: Free trial and plan available. Paid plans start at $15 per agent per month.
7. Front: Centralizing Customer Service and Communication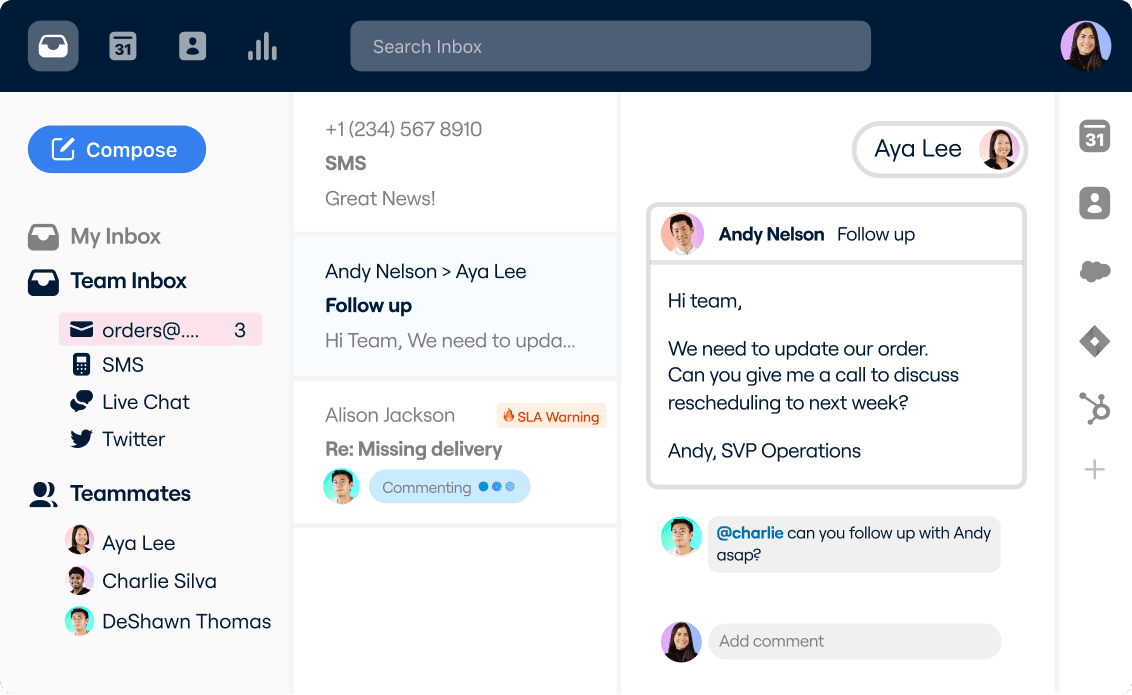 Front acts as a hub, amalgamating customer service and communication in one online platform. It enhances team collaboration and visibility on customer issues.
Key Features of Front
Draft Sharing for Feedback: Share email drafts with teammates for constructive feedback and training purposes.
Efficient Workflow Management: Enable rapid responses to customer messages through streamlined workflows.
In-Depth Analytics: Gain deeper insights into request volume, overall customer experience, and more.
Pricing: Free trial available. Plans start at $19 per seat per month (minimum two seats required).
RELATED POST:
8. Jira Service Management: Comprehensive IT Service Solutions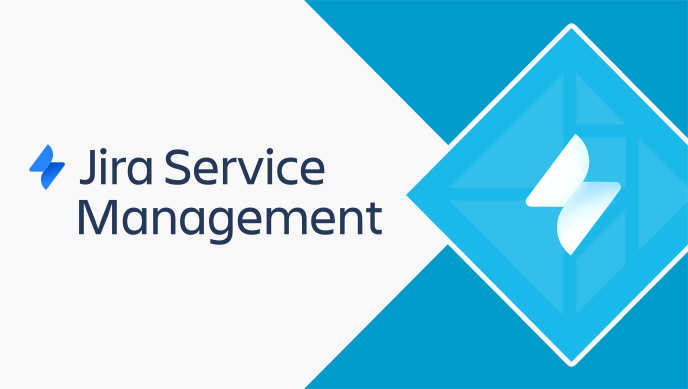 Jira Service Management, from Atlassian, offers a suite of tools for request, asset, change, incident, and problem management. Its seamless integration with Jira's project management capabilities makes it indispensable for IT and development teams.
Key Features of Jira Service Management
Custom Add-Ons Development: Build tailor-made add-ons using the Jira API to enhance functionality.
Automation Rule Library: Access a wide array of automation rules to optimize your tool's capabilities.
Project Management Integration: Integrate seamlessly with your project management tool for enhanced IT team efficiency.
Pricing: Free for up to three agents. Paid plans start at $21 per agent per month.
9. Freshservice: IT-Centric Service Management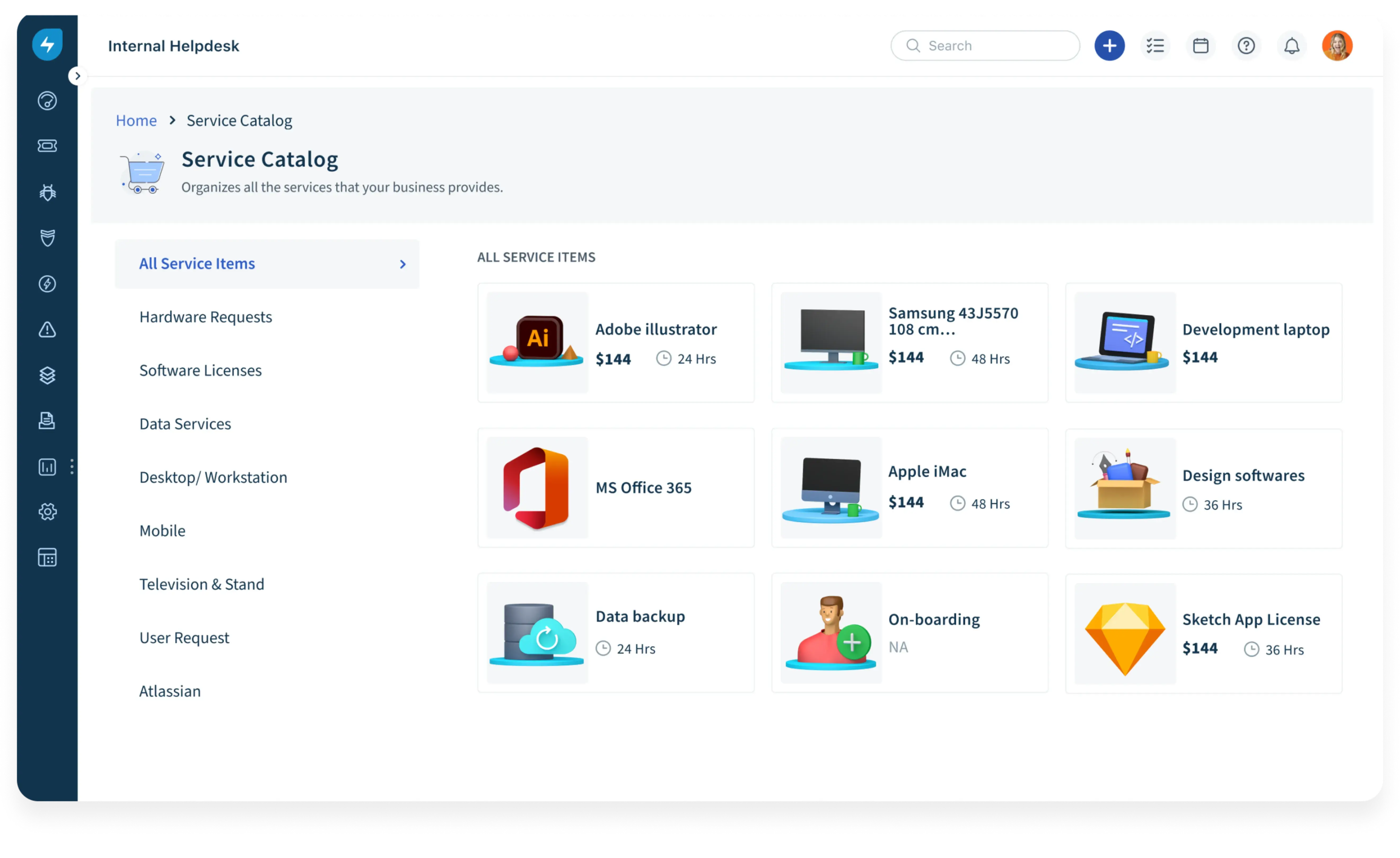 Freshservice, a sibling tool of Freshdesk, caters specifically to IT service management. It encompasses IT project management, service desk operations, and IT asset management services.
Key Features of Freshservice
SLA-Based Policy Implementation: Set policies based on business hours, ticket categorization, and more using service level agreements (SLAs).
Integrated Project Management Dashboard: Directly send ticket assignments to your integrated project management dashboard.
Performance Measurement Tools: Utilize reporting features to assess the overall performance of your help desk.
Pricing: Free trial available. Plans start at $19 per agent per month.
10. Vision Helpdesk: Security-Focused Customer Service Solutions
Vision Helpdesk offers a range of customer service products tailored for both customer service and IT teams. With a focus on security, it provides a satellite help desk and ITIL/ITSM compliant desk.
Key Features of Vision Helpdesk
Mobile App for On-the-Go Communication: Leverage the mobile app for seamless customer communication while on the move.
Live Chat Software for Sales and Service Teams: Implement live chat for both sales and customer service interactions.
Multi-Channel Conversation Management: Effectively manage customer conversations across live chat, social media, email, phone, and more.
Pricing: Free trial available. Plans start at $12 per agent per month for SaaS cloud license. Self-hosted plans start at $8 per agent per month.
Conclusion
The year 2023 has ushered in a new era of customer support technology, with these top 10 help desk ticketing systems leading the charge. From startups to established enterprises, they offer tailored solutions for every business need. Whether through streamlined ticket management or powerful automation, each platform excels in its own right.
As we look ahead, the future of customer service technology is undeniably bright. These systems have set a new standard for excellence, promising to enhance support operations for businesses across the board. With this guide, we trust that you're now well-equipped to make a confident choice in selecting the ideal help desk ticketing system for your needs in 2023 and beyond.
NEWEST POST: