In an era where digital connectivity is paramount, webinars have emerged as an indispensable tool for businesses, educators, and individuals alike. These virtual events have revolutionized the way we disseminate information, connect with audiences, and foster meaningful engagement. As we step into 2023, the landscape of webinar platforms has evolved significantly, offering a plethora of features and functionalities designed to cater to diverse needs.
Whether you're a seasoned professional seeking advanced analytics or an entrepreneur looking for an intuitive user interface, the right webinar platform can make all the difference. In this article, we'll delve into the top 10 webinar platforms of 2023, each offering unique strengths and capabilities to help you host successful and impactful online events.
Join us as we explore the cutting-edge technologies, interactive features, and user-friendly interfaces that define the leading webinar platforms in 2023. From robust hosting capabilities to seamless audience interactions, these platforms are poised to shape the way we connect and communicate in the digital age.
Livestorm: Revolutionizing Engagement
Livestorm stands as a trailblazer in the realm of video engagement platforms, seamlessly orchestrating meetings, webinars, and virtual events from initiation to culmination. This platform breaks down the barriers of conventional video conferencing, providing an end-to-end solution for meetings and events. Access an array of tools including email templates, customizable registration pages, email delivery tracking, website widgets, and integrated social sharing. Bid farewell to lackluster gatherings and events with limited interaction.
With Livestorm, interaction reaches new heights. Engage participants through polls, Q&A sessions, emojis, file sharing, and much more. What sets Livestorm apart is its integrated dashboard, empowering data-driven decisions by tracking registrations, attendance, and participant engagement. Seamlessly integrate Livestorm with Salesforce or HubSpot CRM to harness event data. Designed with user-friendliness in mind, Livestorm caters to companies of all sizes, from startups to Fortune 500 giants. Brands such as Shopify, Honda, Spendesk, Front, and Revolut rely on Livestorm to orchestrate their online gatherings. Spanning 24 languages, Livestorm unites users worldwide.
Users:
Marketing Manager
Customer Success Manager
Industries:
Computer Software
Information Technology and Services
Market Segment:
47% Mid-Market
45% Small-Business
READ MORE:
BlueJeans Virtual Events: Elevate Your Events
BlueJeans Events crafts production-grade virtual events and captivating live streams for a global audience. Deliver unforgettable experiences with TV-quality broadcasts featuring 1080p video and Dolby Voice audio, complemented by the robust production tools of BlueJeans Studio. Maximize engagement with interactive features like Q&A sessions, chat, polling, and hand raising. Amplify your reach by live streaming to social platforms, RTMP destinations, or your website. Scale effortlessly with secure browser-based event production accommodating up to 150,000 registered attendees.
Users: No information available
Industries:
Information Technology and Services
Education Management
Market Segment:
49% Enterprise
41% Mid-Market
Webex Webinars: Scale and Engage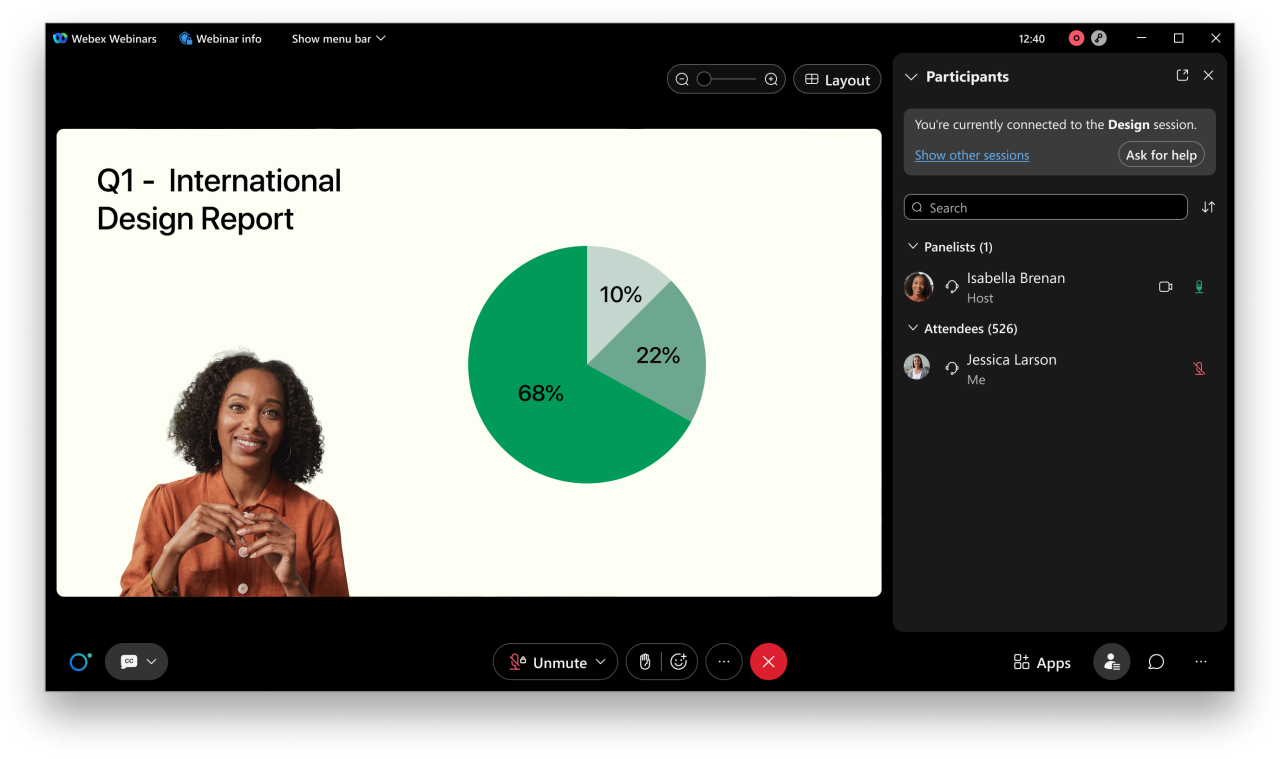 Webex Webinars, formerly Webex Events, emerges as a scalable platform capable of delivering engaging and impactful experiences, whether for intimate sessions or massive global audiences. Foster active participation with moderated Q&A sessions, live polling, chat, emoji reactions, and gesture recognition. Break barriers by offering live interpreters for attendees in their preferred language. Deepen discussions or encourage connections with breakout sessions. Deliver professional and bespoke webinars at scale. Take charge of the stage and content visible to your audience before, during, and after the event. Customize the attendee registration process with branding options and themes. Rehearse the entire presentation with co-panelists before going live. Accommodate up to 100,000 attendees and provide real-time translations in over 100 languages for a global audience.
Users: No information available
Industries:
Information Technology and Services
Computer Software
Market Segment:
39% Enterprise
27% Mid-Market
BigMarker: Tailored Experiences Await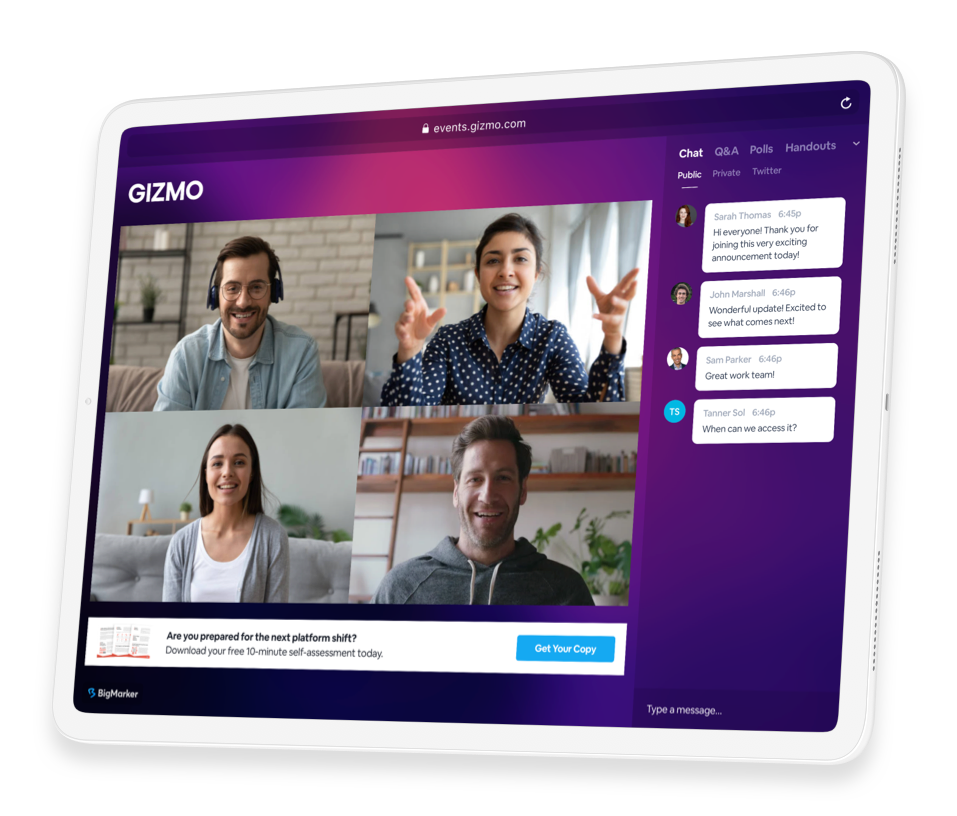 BigMarker emerges as the epitome of customization in the world of webinars, virtual, and hybrid events. The platform seamlessly integrates potent video technology with robust marketing and interactive capabilities, giving birth to unique branded events. Companies worldwide harness BigMarker's all-encompassing platform to craft immersive and interactive virtual, hybrid, and webinar events. Furthermore, BigMarker extends its offerings with integrations, APIs, and white label services, enabling companies to infuse interactive video experiences into their marketing, sales, and learning ecosystems. Let's collaborate in shaping your dream online event. Founded in 2010, BigMarker calls Chicago its home and fuels events for thousands of global companies and organizations.
Users:
Industries:
Marketing and Advertising
E-Learning
Market Segment:
86% Small-Business
11% Mid-Market
Zoho Meeting: Empowering Online Collaboration
Zoho Meeting stands as the singular solution catering to both online meetings and webinar necessities. It champions remote collaboration for the hybrid work landscape. In the rapidly expanding sphere of online meetings and web conferencing, Zoho Meeting reigns supreme. It provides businesses, regardless of their size, with a seamless and cost-effective means to connect with customers and partners through screen/application sharing, audio, and video conferencing.
Host product launches, feature demonstrations, sales presentations, lead-nurturing webinars, user education webinars, and online meetings directly from your browser. Zoho Meeting accommodates secure, robust web meetings, allowing you to share your screen with a remote audience, regardless of their location worldwide. Integrate Zoho Meeting with Zoho CRM for a cohesive experience in scheduling, inviting, hosting, and viewing reports and recordings. Simplify your sales process, streamline presentations, and conduct web meetings for business strategy and marketing endeavors.
Users:
Industries:
Information Technology and Services
Marketing and Advertising
Market Segment:
78% Small-Business
14% Mid-Market
Zoom Events and Webinars: The Future of Virtual Gatherings
Zoom Events and Webinars represent an integral facet of Zoom's event solutions, enabling customers to host virtual and hybrid events, as well as large-scale broadcasts. Zoom Webinar excels in single-session large broadcasts, offering flexibility in streaming to third-party platforms, embedding into webpages, and providing a single link for attendees. The setup process is intuitive, facilitating the hosting of expansive broadcasts with ease.
Zoom Events, on the other hand, emerges as a comprehensive event management platform built on Zoom's dependable and secure video technology. It empowers the seamless creation and management of virtual events of any magnitude. Offering features such as event hubs, customizable registration and ticketing, attendee networking via a chat-enabled event lobby, and detailed event reporting, Zoom Events simplifies the entire process of hosting, marketing, and reporting on virtual and hybrid events.
Users:
Industries:
Computer Software
Higher Education
Market Segment:
40% Mid-Market
39% Small-Business
RELATED POST:
Hubilo: A Marketer's Dream
Hubilo takes the spotlight as the ultimate webinar platform designed specifically for marketers, promising to double your pipeline. With 48 G2 categories and reports recognizing Hubilo's excellence, it's evident why it's one of the chosen 14 event tech platforms in the 2023 Forrester Wave. Founded in 2015, Hubilo's arsenal includes powerful engagement features, a dedicated client experience team, and customizable branding tools. It boasts over 12,000 virtual events and webinars, accumulating hundreds of millions of minutes in high-engagement experiences. Headquartered in Bengaluru and San Francisco, Hubilo's 200+ employees are dedicated to enabling webinars and virtual events that drive conversions.
Users:
Event Manager
Project Manager
Industries:
Events Services
Non-Profit Organization Management
Market Segment:
63% Small-Business
27% Mid-Market
WebinarKit: Automate and Captivate
WebinarKit empowers businesses to create automated, lifelike, and on-demand webinar funnels within minutes. Trusted by over 10,000 businesses, this platform provides the tools needed to captivate audiences effectively.
Users:
Industries:
Marketing and Advertising
Professional Training & Coaching
Market Segment:
93% Small-Business
2% Mid-Market
Airmeet: Uniting the World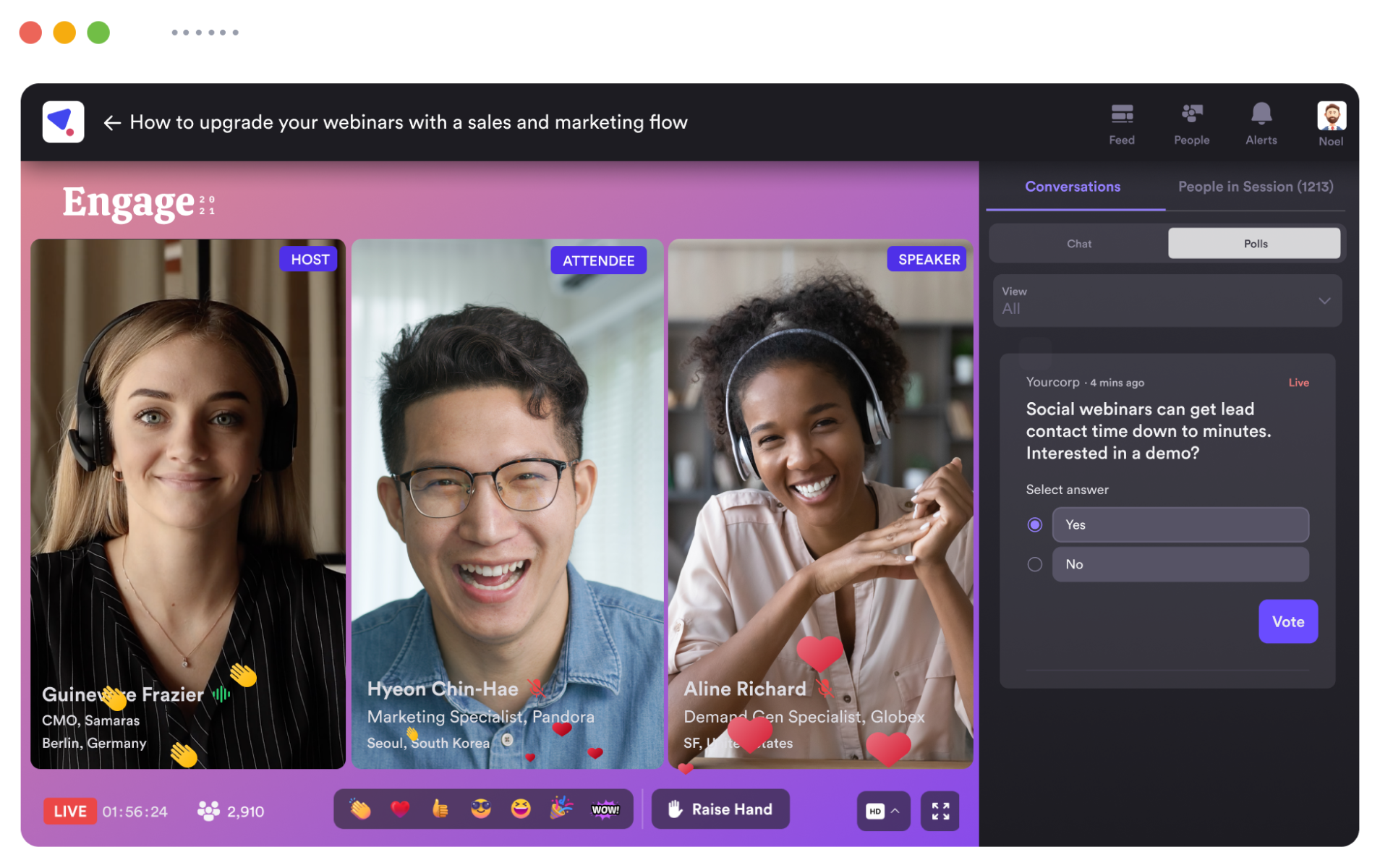 Airmeet proudly stands as the world's first Event Experience Cloud (EXC), connecting people from all corners of the globe. Over 6,500 businesses leverage Airmeet to enhance their brand and revenue through immersive experiences and meaningful connections. Airmeet accommodates all event formats, from conferences and webinars to meetups, workshops, town halls, career fairs, expos, and more.
Notable brands like ComCast, Forbes, Volvo, SAP, HackerRank, and the University of Toronto regularly host thousands of events each month on Airmeet. Customer testimonials laud its ability to create engaging and stunning event experiences, leading to nearly double the industry average attendance rate and a 600% increase in sales conversions.
Users:
Industries:
Education Management
Higher Education
Market Segment:
60% Small-Business
32% Mid-Market
GoTo Webinar: Trusted Excellence
GoTo Webinar enjoys the trust of more customers than any other online webinar solution, powering millions of webinars annually. Whether used for marketing, training, or corporate communications, GoTo Webinar rekindles the excitement in webinars. It offers reliable technology that's incredibly user-friendly, along with a suite of features, integrations, and analytics to engage your audience and forge personal connections that drive business success.
Users:
Marketing Manager
Director of Marketing
Industries:
Computer Software
Information Technology and Services
Market Segment:
42% Mid-Market
37% Small-Business
Dive into the world of webinars in 2023 with these top 10 platforms, each offering unique features and capabilities to cater to diverse needs and preferences. Explore further at Top10theworld.com for the latest updates and insights in the ever-evolving world of online events and webinars.