In the dynamic landscape of property management, having the right software can be a game-changer. Here, we've curated the top property management software for 2023, each offering unique features tailored to boost your efficiency and client satisfaction.
AppFolio Property Manager: Elevate Your Property Management Game
Revolutionize your property management process with AppFolio. This cloud-based software offers an intuitive, user-friendly experience that empowers your team to deliver exceptional service to both residents and owners. Whether you oversee multifamily complexes, single-family homes, or community associations, AppFolio has you covered. From accounting to marketing, leasing to maintenance, it automates critical processes, ensuring your business thrives. With real-time access to data and reports, your team stays in control, transforming insights into action effortlessly.
Users:
Property Manager
Office Manager
Industries:
Market Segment:
88% Small-Business
11% Mid-Market
READ MORE:
Avail, by Realtor.com: Empowering Landlords, Every Step of the Way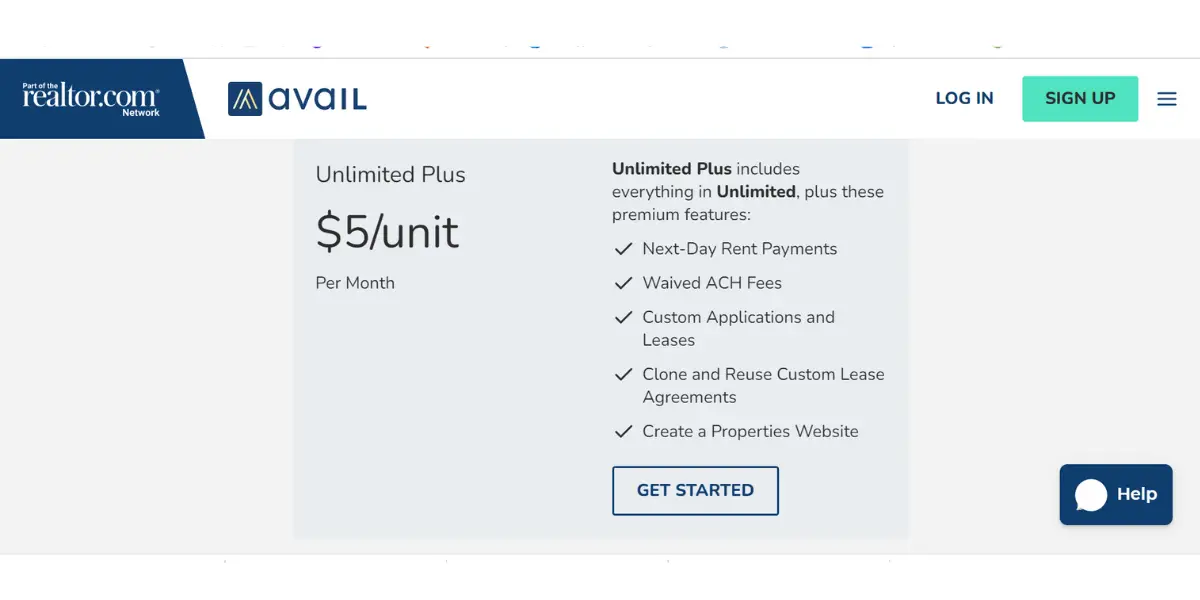 Avail, offered by Realtor.com, is a free rental property management software designed to simplify landlord responsibilities. It enables seamless listing across multiple platforms, tenant screening with customizable questions, in-depth background checks, state-specific lease creation and signing, rent collection, and comprehensive income and expense tracking – all accessible online. With over 512,000 landlords benefiting from Avail, it's the go-to platform for both beginners and seasoned professionals. Its arsenal of tools, support, and educational resources sets it apart.
Features:
Free rental listings
Tenant screening (credit, history, eviction reports)
User-friendly tenant applications
State-specific digital leases
Secure online rent collection
Maintenance request tracking
Rent analysis reports
Rental property accounting tools
Users:
Industries:
Market Segment:
ResMan: Unmatched Excellence in Property Management
ResMan stands as the industry-leading property management platform, trusted by owners, operators, and investors across multifamily, affordable, and commercial real estate sectors. Its intuitive platform is tailored to meet the evolving needs of your business, offering a seamless experience. With an open and scalable architecture, ResMan provides flexibility and choice, streamlining accounting, reporting, and property management functions. Its cutting-edge UI/UX simplifies complexities, saving time and boosting efficiency.
Users:
Property Manager
Assistant Manager
Industries:
Real Estate
Commercial Real Estate
Market Segment:
53% Mid-Market
45% Small-Business
Rent Manager: Tailored Solutions for Every Portfolio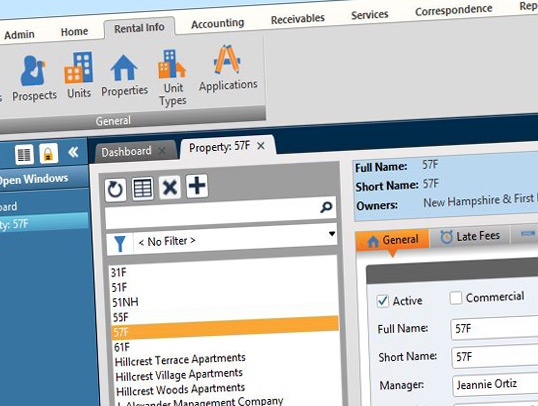 Rent Manager is an award-winning property management software designed to accommodate residential, commercial, and short-term-stay portfolios of any size. With features like customizable accounting systems, maintenance management, marketing integration, mobile applications, and an extensive library of insightful reports, it's a powerhouse for property managers. Whether you're in the field, office, or at home, Rent Manager ensures seamless access to your data. Choose a solution that adapts to your needs.
Industries:
Real Estate
Commercial Real Estate
Market Segment:
81% Small-Business
18% Mid-Market
DoorLoop: Elevate Your Property Management Experience
DoorLoop offers a fully customizable property management software, simplifying the management of your properties from a single, centralized platform. This includes oversight of properties, tenants, owners, leases, users, and vendors. With free training and support, DoorLoop's award-winning platform has garnered over $30 million in funding and is trusted by property managers worldwide. Pricing starts as low as $24.50 per month for your first 20 units with the promotion.
Industries:
Real Estate
Commercial Real Estate
Market Segment:
96% Small-Business
4% Mid-Market
Condo Control: Streamlining Property Management Efforts
Save both time and money with Condo Control's user-friendly web-based property management software. This feature-rich solution automates various property management tasks, including accounting integration, online payments, announcements, violation tracking, service requests, and work orders. Designed for HOAs, condos, and properties, it provides a seamless experience for property managers, board members, and residents alike.
Users:
Property Manager
Condominium Manager
Industries:
Real Estate
Non-Profit Organization Management
Market Segment:
73% Small-Business
24% Mid-Market
Knock CRM: Driving Occupancy and Renewals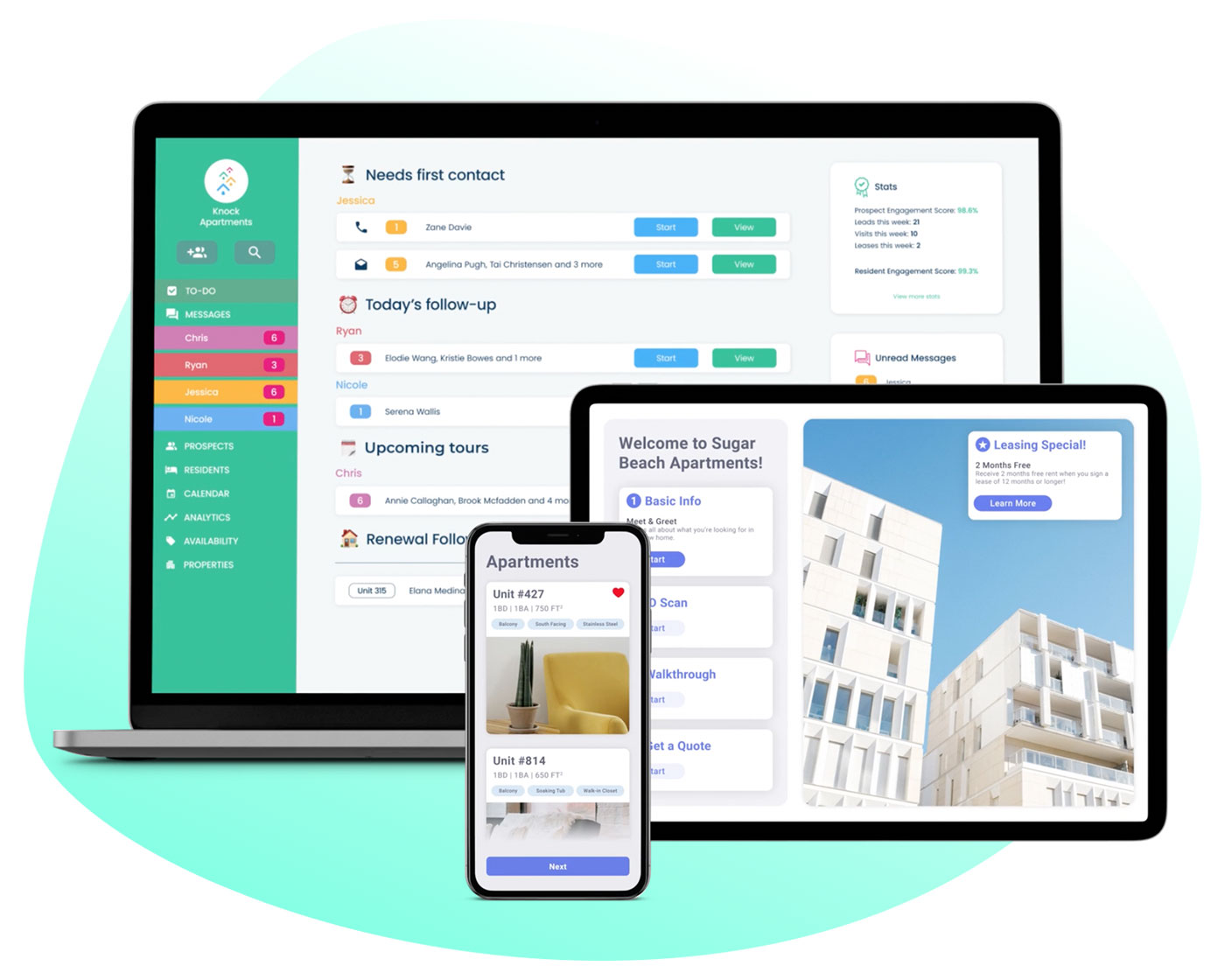 Knock CRM is a powerful platform designed for residential property management leasing teams, marketers, regional managers, and leadership. It leverages cutting-edge automation, integration, and data transparency tools to boost occupancy rates and drive lease renewals. Trusted by numerous industry leaders, Knock is a staple in the multifamily space across the U.S. and Canada.
Industries:
Real Estate
Marketing and Advertising
Market Segment:
52% Mid-Market
29% Small-Business
RELATED POST:
Re-Leased: Maximizing Efficiency in Commercial Property Management
Re-Leased offers a cloud-based commercial property management solution that automates operations and centralizes property data. By providing visibility into critical lease events and revenue opportunities, it helps mitigate risks and increase annual returns. With seamless workflow automation and integrations, Re-Leased ensures that all your lease and accounting data is accessible anytime, anywhere.
Users:
Industries:
Commercial Real Estate
Real Estate
Market Segment:
85% Small-Business
13% Mid-Market
Console Cloud: Empowering Your Property Management Agency
Console Cloud offers comprehensive residential and commercial property management software for your entire agency. It enhances trust accounting, business intelligence, and provides a suite of portals and apps to support your property management team, owners, and tenants. With a clear roadmap, transparent feature releases, and exceptional support, Console Cloud is dedicated to your agency's success.
Users
Industries
Market Segment
87% Small-Business
4% Mid-Market
Property Vista: Revolutionize Property Management and Tenant Relationships
Property Vista is a comprehensive property management software solution that redefines how property managers operate and build relationships with tenants, ultimately driving business growth. This cloud-based platform integrates all the essential tools for efficient property management, enhancing the tenant experience from application to move-out inspections and everything in between. With Property Vista, property managers can bid farewell to costly manual processes and time-consuming tasks, such as tenant screening, leasing, accounting, rent collection, vendor management, inspections, maintenance requests, and tenant communications. It's not just a tool; it's a new standard for renters' expectations.
Industries:
Real Estate
Commercial Real Estate
Market Segment:
63% Mid-Market
29% Small-Business
In conclusion, the right property management software can make a world of difference in streamlining operations and enhancing client satisfaction. Each of these top 10 property management software options for 2023 offers a unique set of features and benefits, ensuring that you find the perfect fit for your specific needs and preferences. Elevate your property management game with one of these powerful platforms and experience the difference it makes in your business operations.