In search of Top 10 Best Austin Plumbers of 2023 in your vicinity? Look no further. We connect you with trusted and skilled plumbers and plumbing contractors who are ready to vie for your business. Whether you post your plumbing project or explore our extensive directory, you'll receive cost estimates and expert guidance from local professionals.
Discover the Best Plumbers Near You
Are you in need of top-notch plumbing services for your kitchen, bathroom, or basement? Our network boasts highly-rated plumbers and local contractors skilled in professional plumbing repairs and installations. Not sure where to start? Simply post your project online, and we'll match you with the perfect plumber tailored to your specific requirements.
Accurate Leak and Line
Location: Austin, TX 78731
Contact: (512) 219-5325
Accurate Leak and Line leads the Texas industry in trenchless pipe rehabilitation and underground plumbing diagnosis and repair. Alongside traditional excavation, we offer the cost-effective Nu Flow CIPP trenchless pipe repair as an alternative to complete system replacement. Our team of Texas Master Plumbers specializes in sub-slab leak testing, employing hydrostatic pressure testing, video camera inspection, and leak isolation testing.
-> Visit Accurate Leak and Line
READ MORE:
Adept Plumbing
Location: Austin, TX 78737
Contact: (512) 301-6330
Adept Plumbing is an independent service catering to Austin, Dripping Springs, Bee Cave, and Barton Creek communities. Owner and licensed master plumber, Christian Hulot-Sage, takes pride in providing meticulous workmanship with an "Old School" approach.
Aloha Plumbing
Location: Round Rock, TX 78683
Contact: (512) 751-8186
Aloha Plumbing is your trusted local service for residential plumbing needs. We specialize in service calls, leaks, water heater repair and maintenance, and more. Serving Round Rock, Georgetown, Pflugerville, Hutto, and surrounding areas, we prioritize repairs over replacements, earning praise for our exceptional customer service and quality work.
Austin Area Plumbing & Drain Cleaning LLC
Location: Pflugerville, TX 78660
Contact: (512) 736-7113
When plumbing problems arise, timely solutions are crucial. With over 35 years of experience, Austin Area Plumbing and Drain Cleaning is committed to promptly addressing your plumbing concerns. As a locally owned company, we serve homeowners in Austin, Rock, Cedar Park, Pflugerville, and neighboring areas.
-> Visit Austin Area Plumbing & Drain Cleaning LLC
Blue Dragon Plumbing

Location: Austin, TX 78758
Contact: (512) 947-2491
A family-owned commercial and residential plumbing business, Blue Dragon Plumbing serves Austin and surrounding areas. From faucet installations to water heater replacements, we offer a wide array of plumbing services for both residential and commercial needs.
Clarke Kent Plumbing, Inc.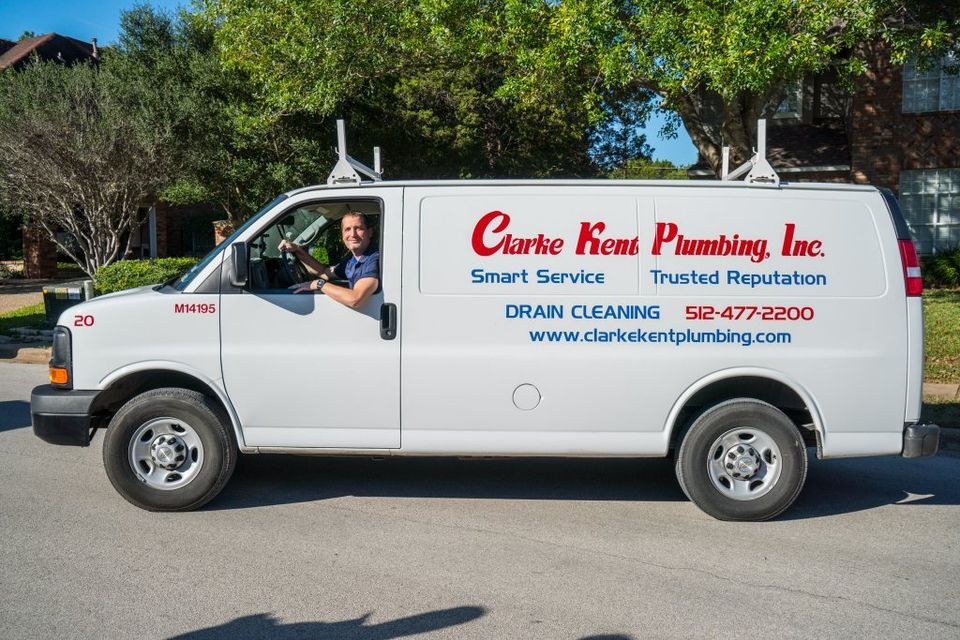 Location: Austin, TX 78704
Contact: (512) 477-2200
Since 1986, Clarke Kent Plumbing has delivered superior service to Austin and its surrounding areas. Our dedicated team excels in finding solutions for every customer, prioritizing trust-building with each interaction. We take pride in maintaining the highest standards and providing 24/7 live phone support for emergencies.
-> Visit Clarke Kent Plumbing, Inc.
Daniel's Plumbing and Air Conditioning
Location: Austin, TX 78753
Contact: (512) 490-6700
Daniel's Plumbing and Air Conditioning ensures the job is done right the first time. From plumbing emergencies to AC repair and heating issues, we handle it all. With a focus on exceptional customer service, we aim to make your experience with us as pleasant and efficient as possible.
-> Visit Daniel's Plumbing and Air Conditioning
Economy Plumbing Services
Location: Austin, TX 78702
Contact: (512) 399-0870
Economy Plumbing Services prides itself as Central Texas' premier plumbing company. With licensed Texas plumbers who are also your neighbors, we prioritize accurate diagnosis and solutions that cater to individuals and families, not just service calls.
-> Visit Economy Plumbing Services
Excalibur Plumbing
Location: Leander, TX 78641
Contact: (512) 817-5145
Your plumbing system is a vital component of your home, and Excalibur Plumbing understands the importance of reliable service. Our licensed plumbers in Austin, TX handle a range of plumbing issues, ensuring that your system operates efficiently.
Fast Plumbing, LLC
Location: Austin, TX 78724 Contact: (512) 928-0378
When plumbing problems strike, you need a team you can trust. Fast Plumbing's expert technicians are equipped to handle a wide range of issues, from burst pipes to persistent toilet troubles. We prioritize prompt responses to ensure your plumbing concerns are addressed in a timely manner.
RELATED POST:
How to choose right Top 10 Best Austin Plumbers of 2023?
Choosing the right plumber is crucial to ensure that your plumbing issues are resolved effectively and at a fair price. Here are some steps you can follow to find the top 10 best Austin plumbers in 2023:
Ask for Recommendations:

Start by asking friends, family, neighbors, or colleagues for recommendations. Personal experiences are often the most reliable way to find a good plumber.

Online Reviews and Ratings:

Look for online reviews and ratings on platforms like Google, Yelp, Angie's List, or HomeAdvisor. These can give you insights into the experiences of previous customers.

Verify Credentials:

Ensure that the plumber is licensed, bonded, and insured. This protects both you and the plumber in case of accidents or damages during the work.

Check Experience:

Look for plumbers or plumbing companies with several years of experience. More experienced plumbers are likely to have encountered a wider range of issues and will have a better understanding of how to address them.

Specialized Services:

Depending on your specific plumbing needs (e.g., residential, commercial, water heater repair, sewer line replacement), make sure the plumber or plumbing company specializes in the services you require.

Request References:

Don't hesitate to ask the plumber for references from previous clients. Contacting these references can give you valuable insights into the plumber's work quality and professionalism.

Get Multiple Quotes:

Contact several plumbers to get quotes for the work you need. This allows you to compare prices and ensure you're getting a fair deal.

In-Person Assessment:

For larger or more complex jobs, ask the plumber to visit your property for an in-person assessment. This will give them a clearer understanding of the work required, and you'll have a chance to meet them in person.

Communication and Professionalism:

Pay attention to how the plumber communicates with you. They should be clear, responsive, and professional. This is a good indicator of how they'll handle the job.

Warranty or Guarantee:

Inquire about any warranties or guarantees offered by the plumber. A reputable plumber should stand behind their work and offer a guarantee for their services.

Compare Reviews and Feedback:

Compare the feedback and reviews you gathered to narrow down your list. Look for consistent positive feedback and be cautious of any recurring negative comments.

Ask Questions:

Don't be afraid to ask the plumber questions about the work they'll be doing, their approach to problem-solving, and the materials they plan to use.
By following these steps, you'll be better equipped to select one of the top 10 best Austin plumbers in 2023. Remember that it's important to feel confident and comfortable with your choice before proceeding with any plumbing work.