Top Personal Injury Attorneys in New York City
When it comes to personal injury cases in the bustling city of New York, you need legal representation that stands above the rest. The following list showcases the top 5 personal injury attorneys in the area, each renowned for their expertise, dedication, and impressive track record.
Marcowitz Law Firm: Championing Justice for Victims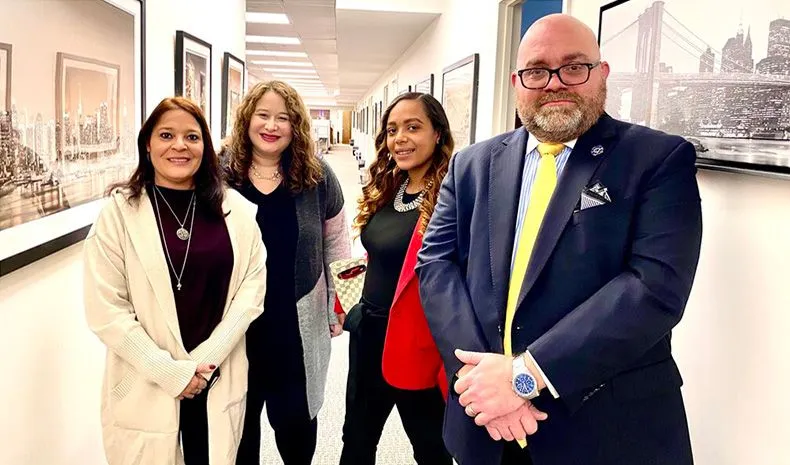 At the helm of the Marcowitz Law Firm is Atty. Eddie Marcowitz, an esteemed personal injury attorney specializing in WTC-related incidents, accidents, and toxic exposure cases. With an entire career dedicated to the realm of personal injury law, Marcowitz and his associates have gained the trust and respect of the legal community.
One remarkable highlight of the firm's legacy is its involvement in the Zadroga Act, named after NYPD Detective Zadroga, whom Marcowitz personally represented. This dedication to serving first responders, rescue workers, and 9/11 attack survivors exemplifies Marcowitz's commitment to justice. Clients can expect personal attention as Marcowitz himself responds to calls, ensuring the highest level of service.
Services Offered:
Personal Injury Representation
Accident Cases
Toxic Exposure Cases
Location:
225 Broadway 3rd Floor, New York, NY 10007
Phone: (718) 529 4040
Website: injurylaw360.com
Client Testimonial: "The service and professionalism are excellent. I had the pleasure to work with Edward Markowitz…I would highly recommend for any legal advice or matters that require the utmost care and support that every client deserves." – Anthony A.
READ MORE:
The Perecman Firm, PLLC: Decades of Dedication
With 35 years of dedicated service, the lawyers at The Perecman Firm, PLLC have proven their prowess in personal injury cases. Over the years, their team has secured over $500 million in settlements and verdicts, a testament to their unwavering commitment to maximizing client recovery.
The firm's reputation is undeniable, having been recognized as one of the "Best Law Firms" by US News. This recognition, combined with numerous legal honors bestowed upon their attorneys, underscores their ability to deliver exceptional results. When you're seeking the compensation you deserve, The Perecman Firm's team will tirelessly fight for your rights.
Services Offered:
Personal Injury Legal Services
Construction Accident Cases
Location:
250 W 57th St #401, New York, NY 10107
Phone: (212) 577 9325
Website: perecman.com
Client Testimonial: "I've been with The Perecman Firm for 5 years. If I could 6 stars I would…Thank you David for all you did for us." – Tim F.
Hach & Rose, LLP: Advocates for Your Rights
Renowned as one of the top personal injury firms in the city, Hach & Rose, LLP is dedicated to protecting the rights and interests of those who have suffered due to negligence or recklessness. With a proven track record of success, their associates stand ready to fight for your rightful compensation.
Their accolades speak volumes. In 2010-2011, the firm achieved four Top 100 results for personal injury claims in the city. The following year, they secured the highest reported jury verdicts in the state. As of 2019, their settlements and verdicts have surpassed $300 million.
Services Offered:
Compensation for Medical Bills
Lost Wages and Other Losses
Location:
112 Madison Ave 10th floor, New York, NY 10016
Phone: (212) 779 0057
Website: unionlawfirm.com
Client Testimonial: "My experience with Hach & Rose exceeded all of my expectations…which was how I was injured." – Deanna Melnick
Rosenbaum & Rosenbaum, PC: Masters of Legal Complexity
The legal minds at Rosenbaum & Rosenbaum PC possess an unmatched ability to dissect complex cases. Their personal injury attorneys excel in cases involving wrongful death and are dedicated to securing maximum recovery for their clients. Offering free initial consultations and working on a contingency fee basis, they ensure that you only pay when your case is won.
With confidence in their skills and commitment to client relationships, Rosenbaum & Rosenbaum PC promises outstanding results. Scheduling a no-obligation appointment is convenient through their website, showcasing their dedication to transparency and accessibility.
Services Offered:
Medical Malpractice Representation
Wrongful Death Cases
Vehicular Accidents
Location:
100 Wall St 15th Floor, New York, NY 10005
Phone: (212) 514 5007
Website: rosenbaumnylaw.com
Client Testimonial: "I am highly satisfied with the service and attention provided to me by the law firm of Rosenbaum and Rosenbaum…Thank you for your services." – John Rodriguez
RELATED POST:
Law Office of Richard M. Kenny: Exemplifying Excellence
Comprising a team of dedicated lawyers from New York City, the Law Office of Richard M. Kenny prioritizes quality over quantity, ensuring personalized attention for each client. With a commitment to meticulous detail and a record of representing over 1000 clients in the city, their small firm guarantees substantial results.
Despite their size, the associates at this law firm possess an impressive history of success and awards. If you're seeking unparalleled results and attentive service, the Law Office of Richard M. Kenny is your destination.
Services Offered:
Medical Malpractice Cases
Personal Injury Representation
Location:
875 6th Ave Suite #805, New York, NY 10001
Phone: (212) 421 0300
Website: rmkinjurylaw.com
Client Testimonial: "Best personal injury firm in New York City…Highly recommend this firm!" – Lori A.
In the competitive legal landscape of New York City, these top 5 personal injury attorneys rise above the rest. Their dedication, expertise, and remarkable track records ensure that you receive the justice and compensation you rightfully deserve. When it comes to personal injury cases, trust these legal experts to guide you through the complexities and fight tirelessly for your rights.